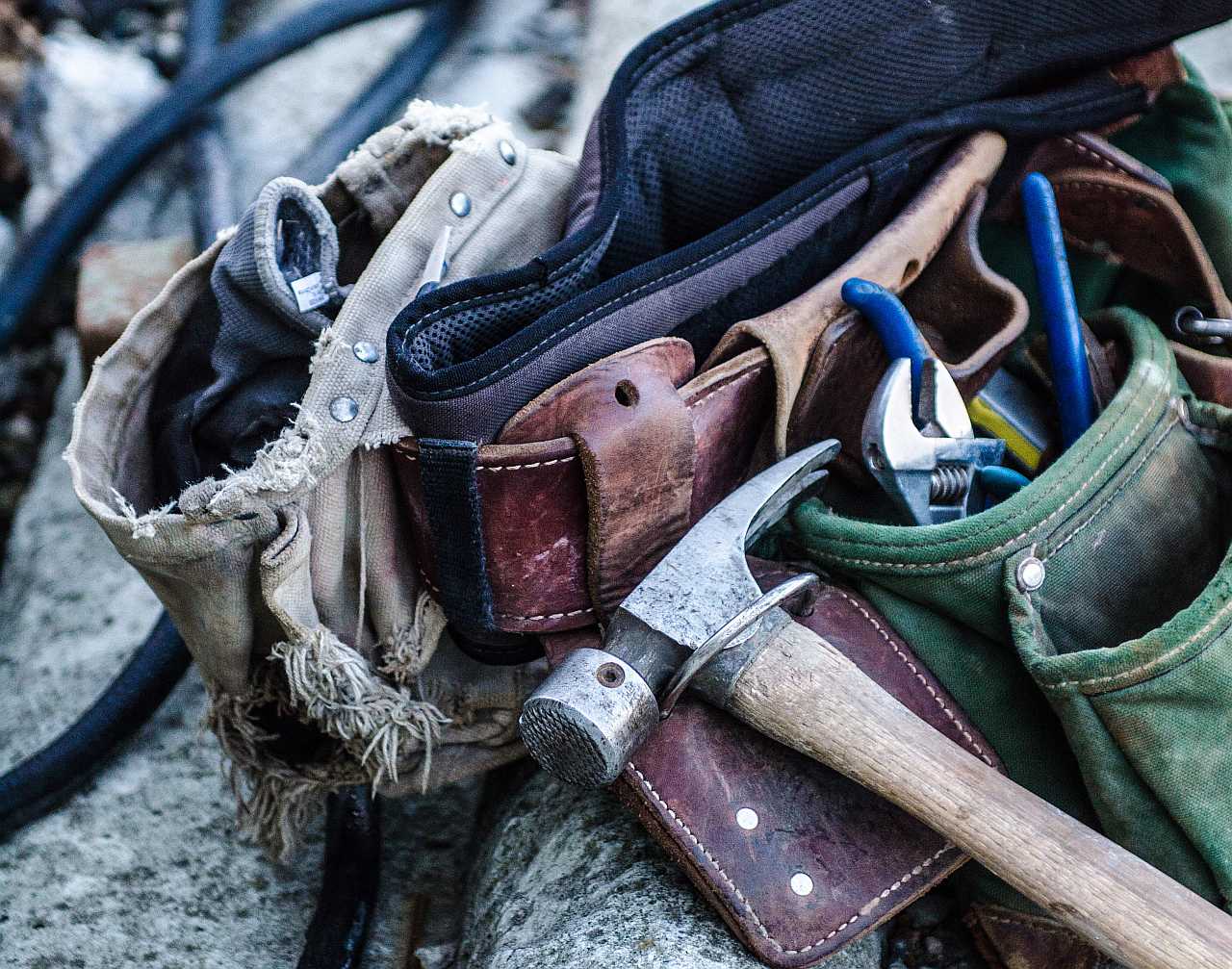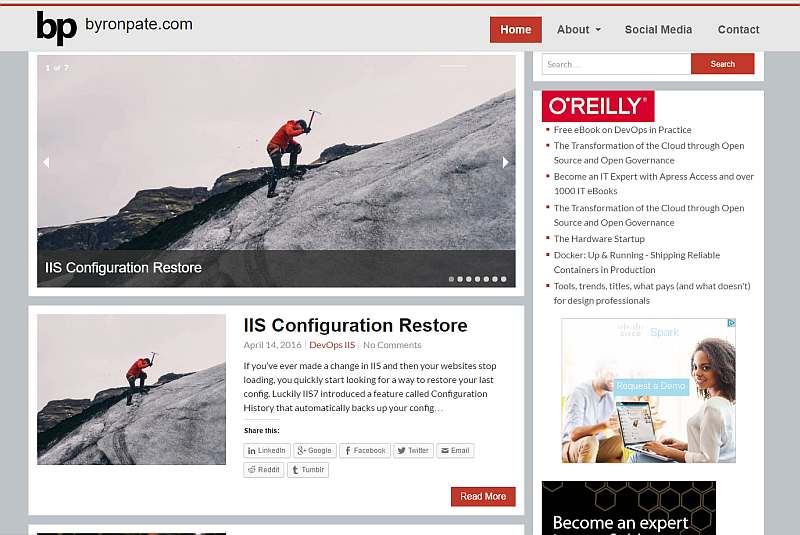 In October my personal blog at byronpate.com will be 3 years old. Or at least the current incarnation will be 3 years old. I set up this WordPress site in October 2013 on a Digital Ocean VPS. But I've let the site get a little out of date, currently its running WordPress 4.4. I decided it's time I refresh and upgrade this site. Originally I was just going to replace the theme, but now my plan is to start everything from scratch and start a complete WordPress Renovation. I want to improve performance, security, and usability of the site. Because this will take several weeks for me to document, I will cover the steps in a series of articles. Consider this the This Old Blog series.
Current State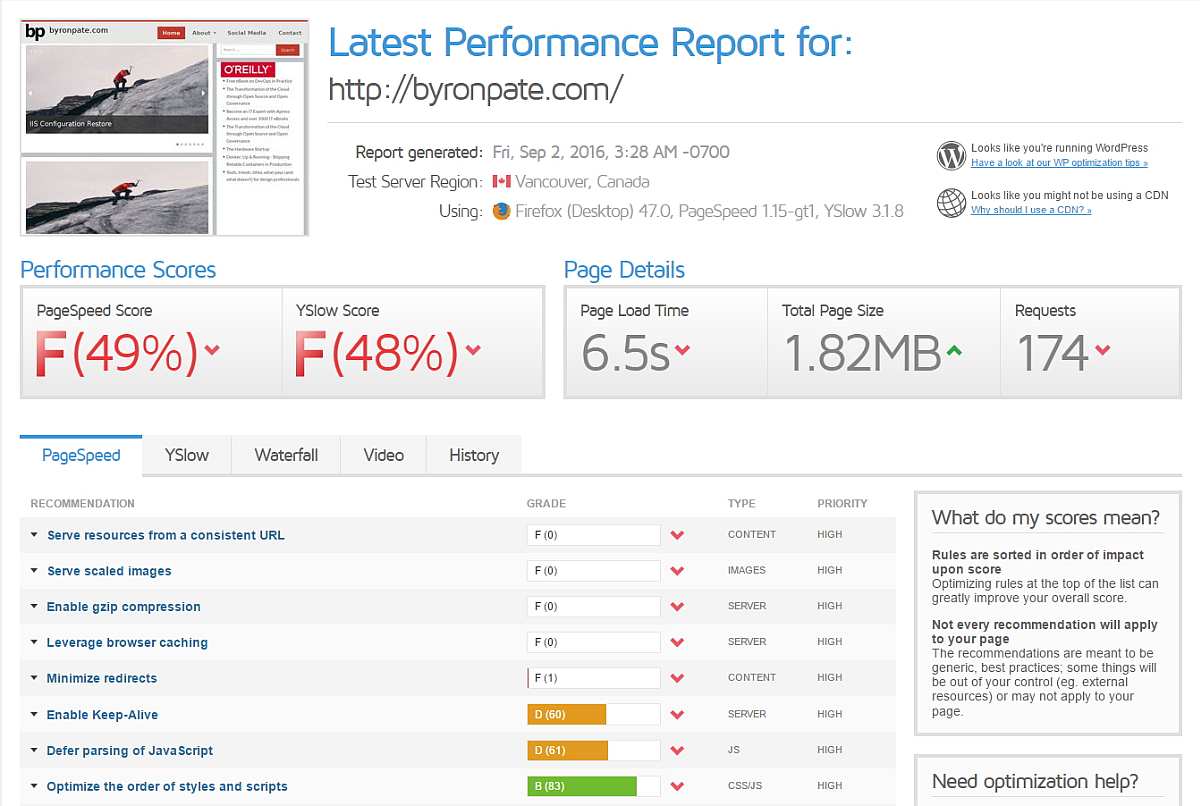 As I mentioned earlier byronpate.com is currently hosted on a Digital Ocean droplet. It is a relatively small site, and gets about 100 visitors per day. It has 1 core and 512MB of memory. Its running WordPress 4.4 with the Miomio theme. I really haven't updated too much with the site in quite awhile and there's a lot of areas I'd like to improve. While site performance is pretty good, it could be better. I ran a Page Speed test with GTMetrix and I'm getting an F with the page loading in 6.5 seconds. This is really unacceptable performance and some work is needed.
I have the site monitored by Pingdom and I know that I've had multiple outages due to Apache hanging which requires me to restart it or it crashes and restarts on its own. As you can see in the Pingdom chart below for the past 30 days, there's been 3 outages totaling 2 hours of down time. This is a major issue and it needs to be resolved.
The look and feel of the site is good but it could use a refresh, and I don't want it to get stale and dated.

WordPress Renovation Goals
Improve Site Performance
As I mentioned above I'm getting page load speed of about 6.5 seconds. So improving performance is my primary goal. So I want to make sure I'm fully tuning the site and server for optimal performance. I'm currently not using any caching tools, so I will probably look at that.
Improve Site Stability
Site stability is a pretty important goal and needs to be improved. For a website of this size I should have no ourages. I've done some troubleshooting of the issue, but at this point I just want to start fresh on Nginx.
Improve SEO and Overall Usability
The Miomio theme was a great free theme that I picked up and tweaked a little, but it's time I updated to a higher end theme. Also I want to make sure I'm doing everything possible to improve SEO, including enabling HTTPS.
WordPress Renovation Plan
To accomplish these goals that I've laid out above I'm planning on taking the following steps to renovate WordPress.
New Cloud VPS
I'm going to research other options for a cloud server to host my site. I'm looking for fairly low end servers, but I'm planning to benchmark a few options against my current server at Digital Ocean. I'm pretty happy with Digital Ocean so I may just spin up a new Droplet there. I'm going to be looking very closely at server performance.
Switch from Apache to Nginx
I've used Nginx in a number of other projects and its a great web server to work with. It has better performance and is easier to manage than Apache. I'm going to install Nginx and fine tune it for performance.
Switch from standard MySQL to Percona Server
I'm going to install Percona Server from the beginning and import my database into it. Percona will give me a slight performance boost and a number of tools that will help me down the road.
Update WordPress and Theme
I'll install WordPress 4.6 and any recent hotfixes. Then I'm going to shop for a new WordPress theme and most likely purchase a professional theme from Themeforest.net. Look and feel will be important, but also back end management and performance.
Implement a Caching and Optimization Plugin
To improve performance I'm going to looking at some caching plugins or CDN options.
Enable SSL
I'm going to leverage Let's Encrypt as a Certificate Authority and provision a TLS certificate for my website. Not only is this a good practice from a security point of view it will also improve my SEO.
What's Next
The first thing I'm going to start working on is making sure I'm running my WordPress blog on the best VPS possible. This is a personal blog so I'm looking to keep cost to a minimum, but I want to get the best bang for my buck. I'll benchmark a few other providers against my current Digital Ocean VPS.
Next I'll spin up a new VPS, configure the server, and then WordPress. I will then have to migrate my site over and update the Theme. Stay tuned…