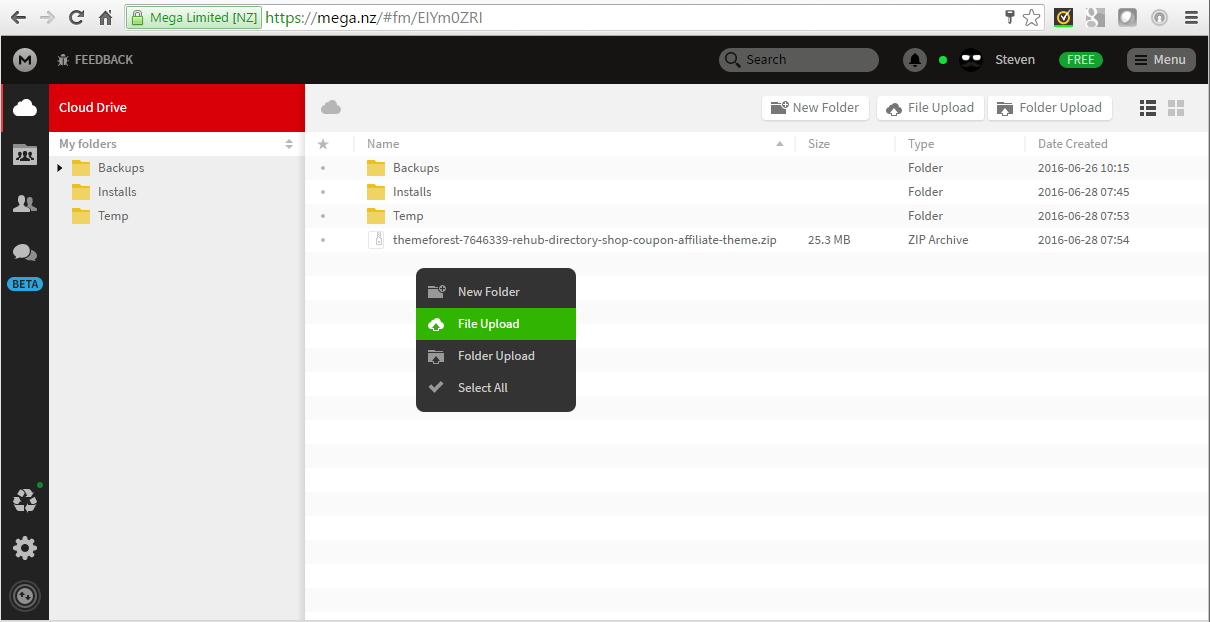 Cloud Storage is nothing new these days, most of us have some form of cloud storage accounts on Google, Microsoft, or Amazon. And specialty providers like Box and Dropbox are heavily used for personal file storage and collaboration. So can another player make a dent in the Cloud Storage market? Possibly, especially if you are MEGA. MEGA has two great features, they provide client side AES encryption, so only you can gain access to your files. And 2nd they offer 50GB of storage for free. 50GB of free cloud storage is an enticing offer, so let's take a look at MEGA Cloud Storage.
Founded in 2013 by Kim Dotcom, MEGA is based in New Zealand and has an emphasis on privacy and data security. However, as of 2015, Kim Dotcom was no longer involved in the company. Kim made statements to Slashdot.org last summer that he was no longer involved with MEGA and that he did not trust the safety of data stored there. Its hard to say how much of this is his honest opinion or him promoting his next business. For my purposes I'm interested in a cloud storage location to store WordPress backups, so it's not overly sensitive data, and if lost I could recreate it. Obviously, the 50GB of free cloud storage is the major attraction for MEGA. But their paid plans are pretty attractive as well. Their highest plan offers 4TB of storage and 8TB of bandwidth for $33/month. Google Drive is $10/month for 1TB, so they're priced a bit more aggressively than Google.
Setting up a MEGA Account
Getting signed up on MEGA is quick and easy right from their home page. One thing to mention, when you specify your password, this will be your master encryption key later. So you want it to be strong, but there's also no recovery mechanism. This is good from a data protection standpoint, but bad if you lose your password. After receiving a confirmation email you are off and running with 50GB of storage.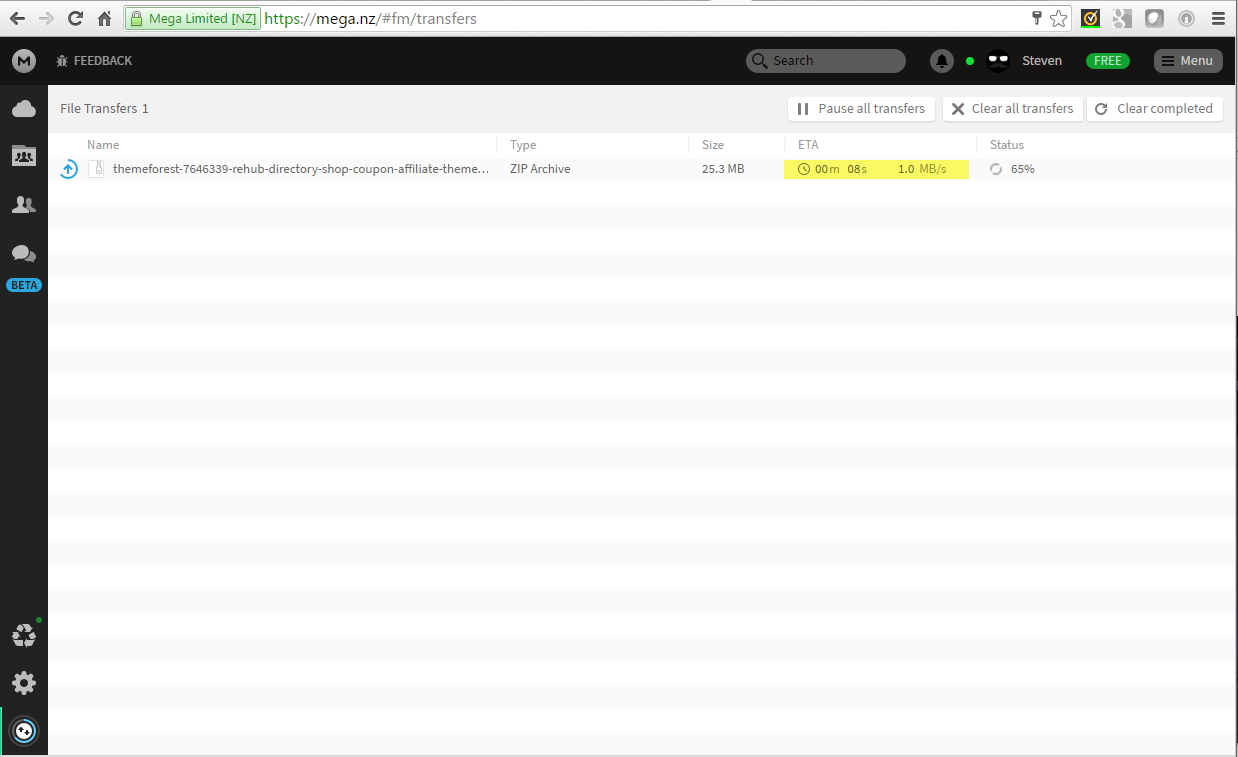 Right away you can start using the HTML5 browser client with a lot of similar functionality to Dropbox. MEGA has a feature for Sharing folders between MEGA accounts, managing Contacts, and even Chat. You have access to view recently deleted files, as well as transfers in progress. I do like the transfers in progress feature, since it gives you a view into what's actually happening with file syncs. One thing I noticed was that upload data speeds seemed to be capped at about 1Mbps. My ISP upload speed is 10Mbps, so this has to be a MEGA limitation. Perhaps on the paid account upload speeds are faster, but at least on the free account it seems a little slower than other providers.
MEGA Cloud Storage Clients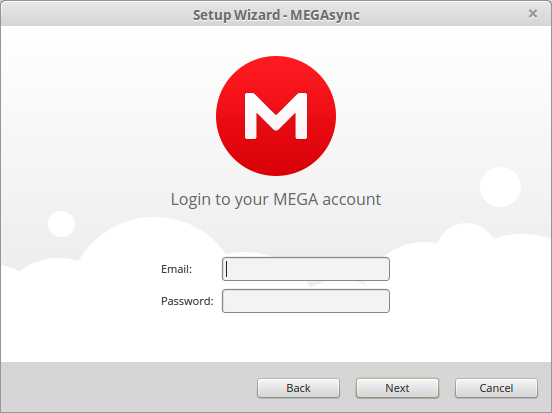 Another nice feature of MEGA Cloud Storage is that they have a lot of clients. They have a pretty full featured HTML5 client, and sync clients for Windows and Mac. But they also have a sync client for many flavors of Linux. Which is nice since even Google Drive doesn't offer that. There's also mobile apps for Android, IOS, Windows Phone, and Blackberry. The sync clients work pretty good, very similar to the DropBox client. It keeps a specific directory in sync with the cloud. One nice feature is there are a number of advanced syncing rules you can configure in the client.
There are also several open source linux command line clients. Two that I tested out are:
MegaTools – I found this one to be very mature and easy to work with.
MegaFuse – It took some work but I was able to get MegaFuse working…sort of. I like the premise of MegaFuse but I had problems getting files to upload.
I like the fact that these options are available for MEGA because it enables you to access MEGA Cloud Storage from a server and use it for things like backup storage. Of course AWS S3 is the king of this, but its nice to have another option.
MEGA Cloud Storage Summary
In summary MEGA Cloud Storage seems to be a promising provider in the cloud storage market. While I doubt anyone will be dropping their Dropbox or Google Drive accounts and moving to MEGA. I think MEGA provides a good secondary option for storage, especially with their very competitive pricing. Given their strong linux clients I will probably be using them storing server backups and continue to evaluate their performance.
PROS:
50GB of Free Storage
Client Side Encryption
Linux Client
CONS:
Company may not be stable
No password recovery
Upload Speeds Seem Slow
Ubuntu 15.10
I couldn't install libdb5.1++-dev library.
So I tried to install libdb++-dev instead. Now, everything works.
Maybe it would solve your problem, too!
sudo apt-get install pkg-config
CXXFLAGS="-D_FILE_OFFSET_BiTS=64″ CFLAGS="-D_FILE_OFFSET_BiTS=64″