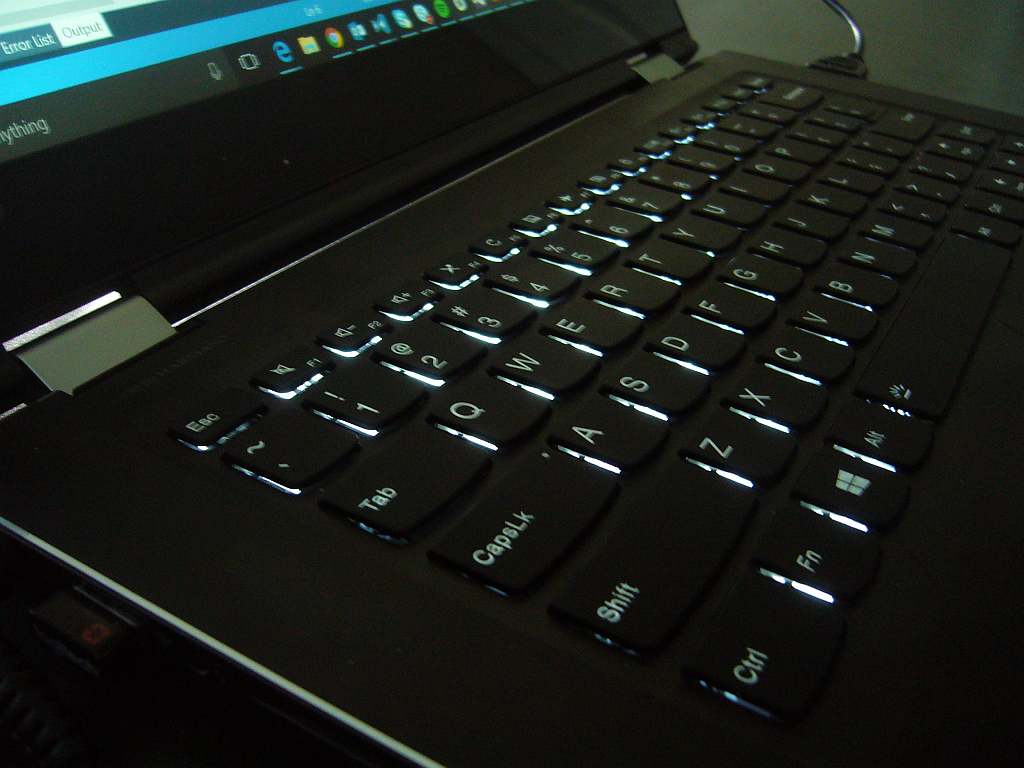 A friend of mine recently took the plunge, shedding his Fortune 100 corporate job, and starting his own technology business. Check them out at insiten.com if you're interested in Business Process Automation, SharePoint, and all things data analytics. As with any tech entrepreneur he needed a good all around laptop. Something with a good screen and keyboard, good battery life, and plenty of horsepower to crunch code and data. After comparing a few models the Lenovo Flex 4 15″ (80VE000MUS) really was the laptop that fit the bill.
Just to be clear, Lenovo sells the Flex 4 in several different configurations. Starting with a smaller 14″ model and a larger 15″. You can choose between a few different specs, but we went with the model that seemed to give us the most bang for the buck. The exact Lenovo model number is the 80VE000MUS. At less than $900 from Amazon this laptop really has some good specs.
Lenovo Flex 4 (80VE000MUS) Components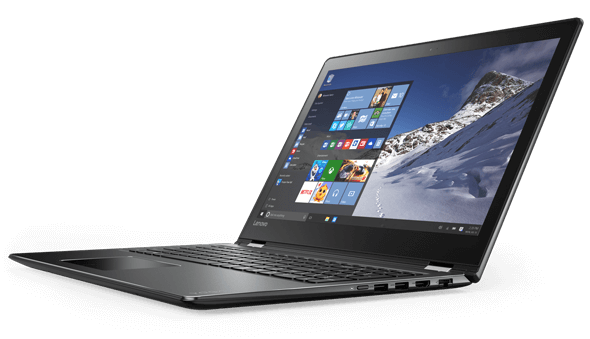 CPU: The Flex 4 comes with the next-generation Intel Core i7-7500U CPU. This is a pretty high-end CPU and delivers real power in a dual core processor.
Memory: Packed with 8GB DDR4 2133 MHz memory this laptop will have no shortage of resources.
Storage: The lower priced model has a 1TB HDD, the more expensive model that we chose comes with a 256GB solid-state-drive (SSD) storage. I would recommend going with the SSD as it's a major performance boost.
Graphics Card: Sporting the AMD Radeon R7 M460 graphics card with 2GB of  dedicated DDR3 memory, this laptop can even handle moderate gaming.
Screen: Equipped with the Lenovo FLEX 4 15.6″ LED-Lit screen, this laptop presents stunning HD graphics in 1920 x 1080 resolution. This is an IPS 10 point touch integrated screen. The screen rotates 360 degrees and can be folded flat to work in tablet mode.
Battery: The Lenovo Flex 4 ships with a 52.5 Watt, 3 cell, Lithium Polymer battery. The Flex 4 averages about 8.5 hours on this battery and can be recharged in about 2.5 hours.
Webcam: The built-in 1 MP Fixed Focus CMOS Camera (720p) is not the most impressive camera, but is more than sufficient for Skype calling.
Operating System: Windows 10 Home Edition 64-bit
Connectivity
Lenovo outfitted the Flex 4 with the standard ports and connections that are expected in most modern laptops. It should be no surprise, but this laptop does not come with a CD/DVD drive. The device is much too thin for that type of drive. Although disappointingly Lenovo did not include a USB 3.1 Type-C port. The Flex 4 15″ does include the following:
2 x USB 3.0
1 x USB 2.0 (always-on)
HDMI video out
4-in-1 Card Reader (MultiMediaCard, SD Memory Card, SDHC Memory Card, SDXC Memory Card)
Headphone/microphone combo jack
Bluetooth 4.0
10/100/1000 ethernet port
802.11ac wifi
Performance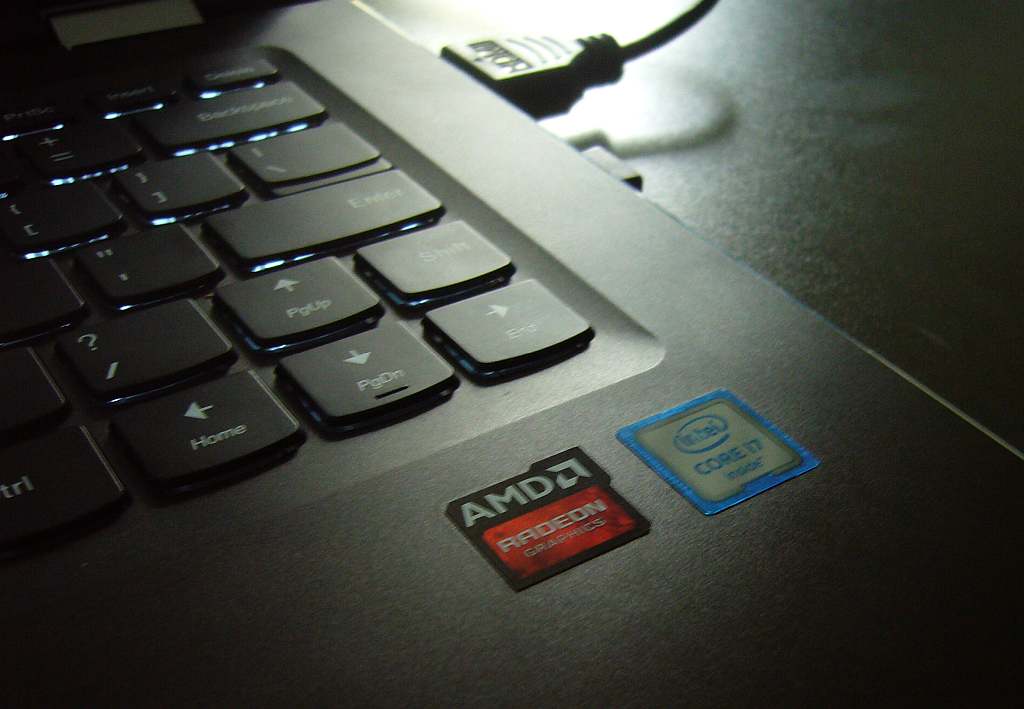 Thanks to the Core i7 CPU, 8GB of memory, discrete Radeon graphics card, and SSD hard drive, the Flex 4 15″ performs really well. It boots really well and easily handles  CPU and Memory intensive applications like Visual Studio. I wouldn't consider this a gaming laptop or mobile workstation, but for a 2-in-1 device, it is surprisingly powerful. Certainly, the dedicated AMD Radeon graphics card gives it an edge over similar devices with embedded graphics cards.
The Lenovo Flex 4 really shines when you leverage its 360-degree foldable screen. Either tenting it to use it as a display or folding it flat to work in tablet mode. When you fold it flat for tablet mode, Windows 10 switches into Tablet Mode. Again its above average components help it work really well in tablet mode and it almost seems like a different device in this mode.
The Flex 4's Lithium Polymer battery also performs nicely for a laptop this size. You can get just under 9 hours of run time out of it. This is pretty average in modern laptops, but the nicer feature is the fast charging. You can fully charge the battery in almost 2 hours.
Build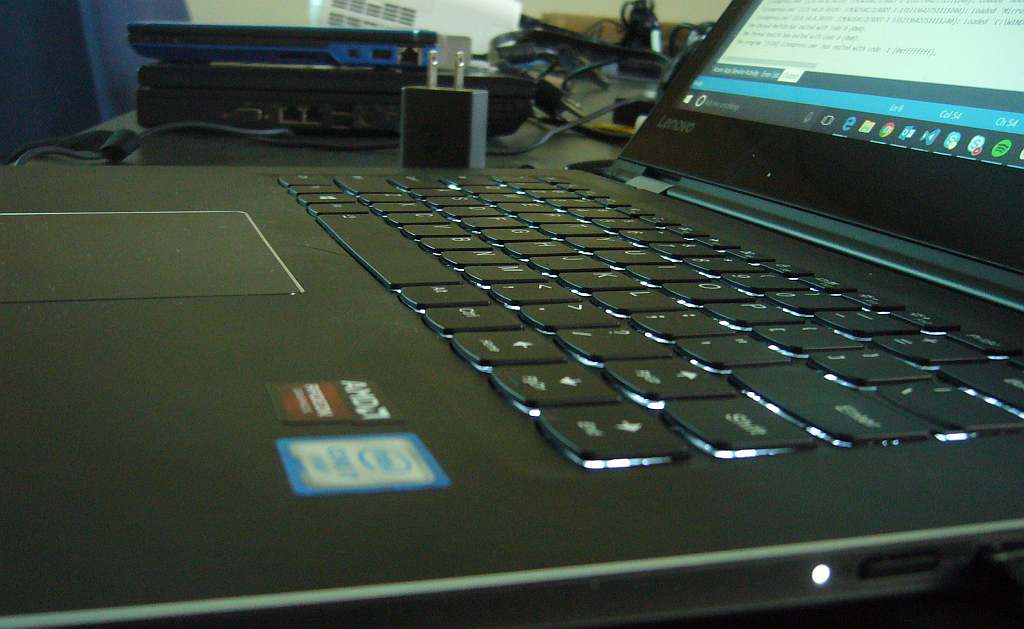 The Flex 4 has a fairly average look to it. It's primarily made of black glass-fiber and polycarbonate ABS. The screen has a glossy look to it since its a touch screen. It weighs in at just under 5 pounds which is reasonable for a 15″ laptop. It is a very thin laptop, though, with the top closed its only 0.8 inches. The LAN port is an expandable port due to how thin it is. The Flex 4 15″ measures 14.9″ wide and 10″ deep. Even though the Flex 4 is mostly made of plastic materials and is not very flashy, it feels very sturdy and solid and doesn't feel cheaply made.
The Lenovo Flex 4 also has a built-in Fingerprint reader which is not only a good security feature but it's also a nice convenience. The fingerprint reader is very snappy and its a fast way to unlock the laptop.
They keyboard also is a standout feature, with one exception. It has no right-hand shift key, see the image above. This can be a big problem for some people, so just keep this in mind. Other than that the keyboard feels very solid and smooth. The Flex 4 keyboard is LED backlit, which is really nice for working in low light situations.
Lenovo Flex 4 - 2-in-1 Laptop/Tablet 15.6" Full HD Touchscreen Display (Intel Core i7-7500U, 8GB DDR3 SDRAM, 256GB SSD, AMD...
Free shipping
2 new from $779.99

3 used from $594.57

Last update was in: January 15, 2021 5:31 am
HIGH-PERFORMANCE LAPTOP: The Lenovo Flex 4, built with next-generation Intel Core i7-7500U processor and Windows 10, delivers the performance you need to succeed (2.7GHz)
TABLET COMPUTER: The Lenovo FLEX 4 can be used 4 different ways - Laptop, Stand, Tent, and Tablet. Switch effortlessly between them as you tackle your to-do list and make the most of your downtime
SMALL LAPTOP WITH PLENTIFUL MEMORY/STORAGE: Kiss goodbye to external hard drives. The Lenovo FLEX 4 has plenty of solid state storage (256 GB) for your music, videos and photos
A Powerhouse 2 in 1 Laptop
The Lenovo Flex 4 15" really excels at being a business device. It boasts really high-end components like an Intel Core i7 CPU and an AMD Radeon graphics card. Couple that with the ability to transform into a tablet makes this a versatile device. If you compare this to the latest Surface it is much more capable of getting work done at half the price.
PROS
Great value at less $900
SSD Storage
Dedicated Radeon Video Card
Fast battery charge
CONS
No Right Hand Shift Key
15" size can be bulky in tablet mode
Don't expect high end gaming performance