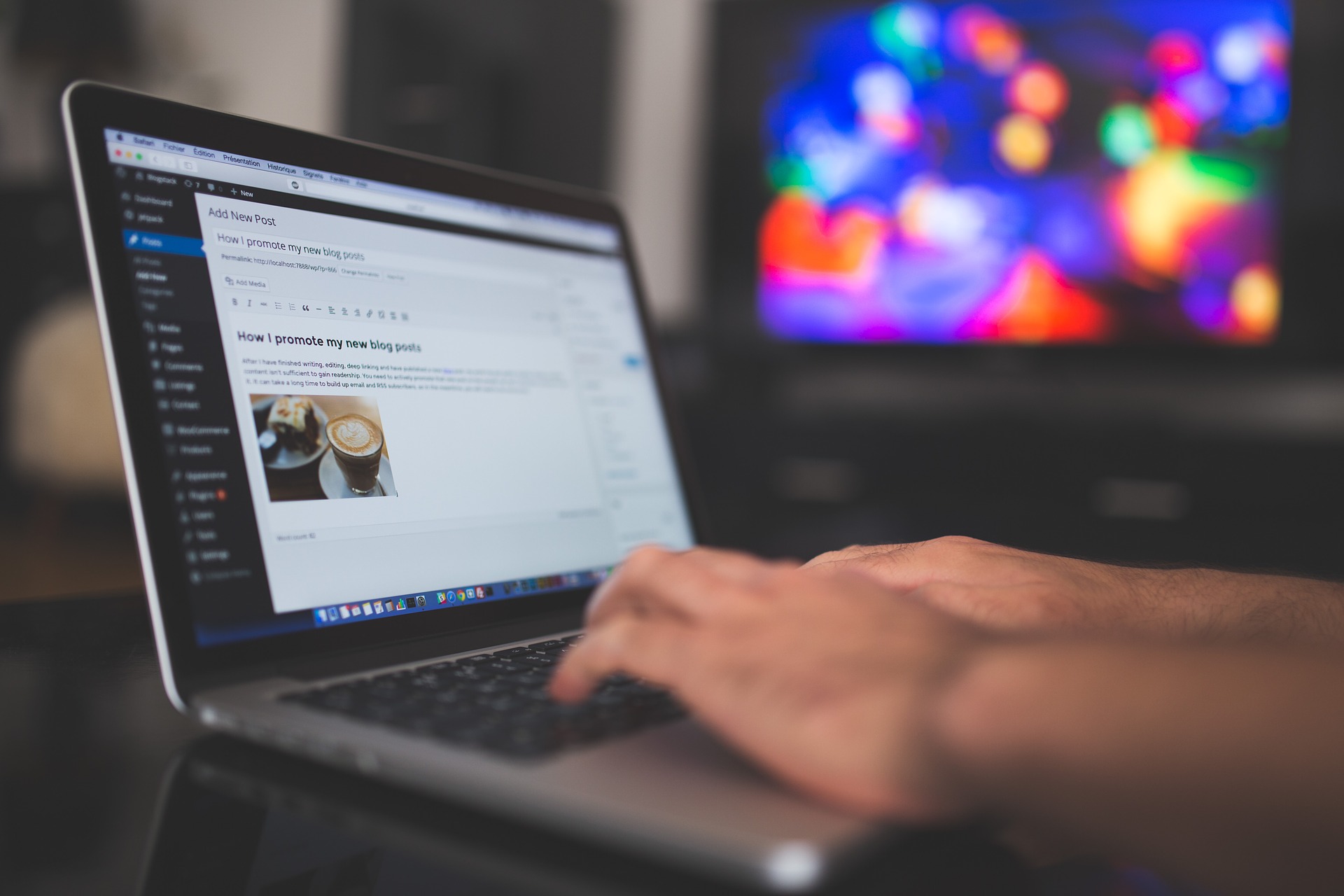 If you're responsible for managing more than two WordPress sites you know that it can quickly turn into a time consuming chore. Several options are available to help you manage multiple sites now, including Jetpack from Automattic. However, putting all of your site control into a cloud provider is not what everyone wants. InfiniteWP provides a centralized management tool that's self-hosted. I'm going to do an InfiniteWP Review and walkthrough the Setup. 
InfiniteWP Review and Setup
I'm going to walk you through setting up InfiniteWP in AWS and connecting it to a site. InfiniteWP's server and client components are available at no cost. They follow the freemium business model where its free to install and start using and there are a number of plugins available for purchase in their market. Reviews from long term users seem to indicate that their support may not be that great, but so far it seems that if you have some general technical abilities you should be fine.
One area where I think InfiniteWP really shines is security. Its a self-hosted product, so you can install InfiniteWP on your own server. This helps you control control cost and minimize risk, so out of the box you have a lot of options to lock it down.  But even beyond that, the application has several other options to control access.
IP Restrictions – You can configure the application to only allow certain IP addresses access to login. This adds a very strong layer of protection
HTAccess – You enable .htaccess restrictions within Apache and then configure the application so it can work with it.
Two Factor Authentication – Another great option to have out of the box. This help prevent passwords from being hacked or guessed. For free you can use email two factor authentication, but you can purchase an addon for Duo Security that enables a mobile app for two factor.
HTTPS – The application will support and enforce only using HTTPS to access it.
Overall, InfiniteWP seems to be a great inexpensive tool for small agencies or freelancers managing multiple sites. Or for larger agencies who can invest some money in a tool that will lower the amount of man hours needed to manager their sites. But keep reading this InfiniteWP Review to get a better for this tool and how you can use it.
InfiniteWP Walkthrough
1. Prepare
Download the installation media from https://infinitewp.com/installing-download/
If you don't have an AWS account go to https://aws.amazon.com/ to setup one
2. Create the EC2 Instance
Lets go through the following steps to get the EC2 Instance up and running. In AWS launch a new EC2 Instance. I created a t2.micro instance running Ubuntu. The only I would say about the server specs is that if you plan to store your backups on this server, the t2.micro defaults with 8GB of EBS storage. So if you're planning on backing up a lot of sites or retaining those backups for some time, you will need a larger volume or attach something like the new AWS Elastic File System.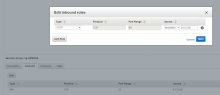 During the setup process you need to download the security PEM file. Once the instance is running go into the Security Group that its using and ensure SSH/Port 22 is open and HTTP/Port 80 is open. On your local machine find the PEM file you downloaded and convert it to a PPK. This is for using Putty as your SSH client, if you are not using Putty you can skip this. Open Putty, specify the host name, the username will be "ubuntu" for Ubuntu instances, and under SSH\Authentication specify the path to the ppk file. Connect to your instance with Putty.
3. Setup the LAMP Stack
Let's run through configuring a LAMP stack on Ubuntu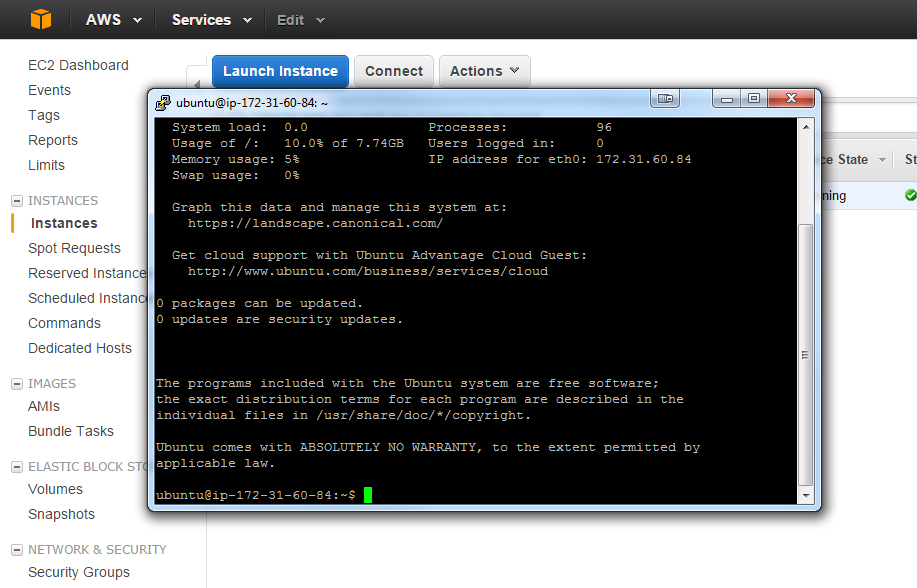 Install Apache and MySQL
$ sudo apt-get update
$ sudo apt-get install apache2
$ sudo apt-get install mysql-server
$ sudo apt-get install libapache2-mod-auth-mysql php5-mysql php5 libapache2-mod-php5 php5-mcrypt
$ sudo mysql_install_db
Configure MySQL Security, you'll need to specify a root password here
$ sudo /usr/bin/mysql_secure_installation
Enable PHP in Apache
$ sudo nano /etc/apache2/mods-enabled/dir.conf
Add index.php to the DirectoryIndex directive like so:
DirectoryIndex index.php index.html index.cgi index.pl index.xhtml index.htm
Install Curl
$ sudo apt-get install curl libcurl3 libcurl3-dev php5-curl
Now lets setup the InfiniteWP database
$ mysql -u root -p
Provide the root password you created earlier. At the MySQL prompt run the following commands
CREATE DATABASE iwpdb;
CREATE USER iwpuser@localhost IDENTIFIED BY 'password';
GRANT ALL PRIVILEGES ON iwpdb.* TO iwpuser@localhost;
FLUSH PRIVILEGES;
exit
4. Setup InfiniteWP
We'll go through the final steps to get InfiniteWP working.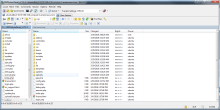 Uncompress the InfiniteWP zip file locally and then upload it to your EC2 instance using SCP or WinSCP to /var/www/. You can name the directory whatever you want, I used iwp.
To keep things clean delete the default html directory from inside /var/www/. Then edit /etc/apach2/sites-available/000-default.confi to move the Apache root to /var/www/.
Restart Apache
$ sudo apache2ctl restart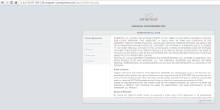 Launch InfiniteWP in your web browser by going to the EC2 Instance address /IWP/. This will launch the InfiniteWP setup wizard.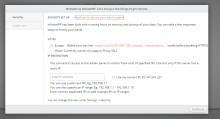 After accepting the License Agreement you'll be able to provide your database details. This would be the same values you configured in MySQL above. Next you'll be presented with options for restricting access. And then you can create the InfiniteWP Administrator Account.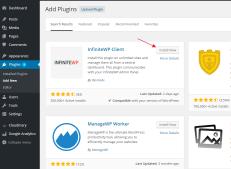 Once the setup is complete you'll land on the InfiniteWP dashboard. From here you can start adding your websites in. Before adding a site, go to the site and add the InfiniteWP plugin this allows communication between the two. Now add the website from the lower left hand corner button and you'll be able to start managing it. You'll need to provide your login credentials to each website.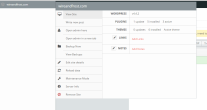 Once its added you'll have a number of options available to manage the site from within InfiniteWP. You can launch the site or the site admin. Perform a backup or View Backups. You can edit Site Properties or put the Site into Maintenance Mode. Obviously buying more add-ons from InfiniteWP gives you more options like Backing Up to Cloud Storage, Scheduling Backups, and Managing Users. Also being able to update plugins and themes across all your sites in a single click is extremely helpful.
Hopefully this article provided a good InfiniteWP review and overview, and stepped you through the basics of getting it up and running. If you have experience using this tool, we'd love to hear your feedback in the Comments.
Excellent Value
InfiniteWP is a great tool for WordPress Admins who are managing many sites. Its free install and run on your own servers, and manage as many websites as you want. Easy to setup, and with great security options, you'll want to check this out today.