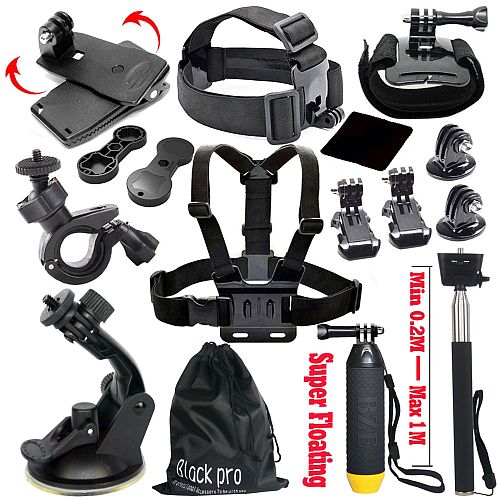 I recently picked up a DBPower EX5000 Action Camera for my summer vacation to Costa Rica. I reviewed the camera in detail on an earlier post, and so far I've been very happy with it. The camera does come with a quite a number of accessories. But after using it for several weeks, there's a few I've picked up. So I've compiled a list of the best  action camera accessories for the DBPower EX5000. Also keep in mind that most of work with GoPro Hero, Lightdow, and GeekPro action cameras.
Best Action Camera Accessories for the DBPower EX5000
32GB Micro SDHC Card
The DBPower EX5000 does not come with a memory card, so the first thing I got was a micro SD card for it. Remember 32GB is the largest size you can use in the DBPower. You want to use a Class 10 card for best performance. At $10 its hard to beat the Samsung EVO 32GB Class 10 Micro SDHC Card.
$31.85
18 new from $31.85
Amazon.com
Last updated on November 11, 2020 6:02 pm
DBPower Selfie Stick
Another must have, also for $10. Pick up the DBPOWER Extendable Handheld Telescopic Monopod to help snap action selfies. This is nice accessory to have for taking cool photos and videos.
Last updated on November 11, 2020 6:02 pm
TEKCAM Carrying Case Small
The other thing I quickly realized was I didn't have a carrying case for the DBPower EX5000. Even though it's small, it's still nice to have somewhere to store it. Just out of the box it has a lot of accessories so keeping everything together is important. You can order this small case for $8 and it's great for traveling.
Last updated on November 11, 2020 6:02 pm
TEKCAM Carrying Case Large
If you are planning to get some of the other mounts and harnesses you'll want to get the large carrying case. It will fit the camera and standard included accessories plus a lot of additional components. Again if you're going on vacation and taking your action camera, you'll want to get this.
Last updated on November 11, 2020 6:02 pm
Waterproof Dry Bag Backpack
An alternative to the other two carrying cases is the Dry Bag. This is larger, but if you have other components like clothes or phones you need to keep safe and dry while boating, hiking, or camping this is a good way to do it. Very lightweight and easy to wear, but it also stays watertight.
Last updated on November 11, 2020 6:02 pm
TEKCAM Car Suction Cup, Floating Mount, and Tripod
For $13 you can get a selfie stick, floating mount, and suction cup mount. If you are planning to use your camera out on the the open water like a river, lake, or ocean, then you want to pick this up. If you drop the camera in the ocean, it is waterproof but it will sink and you probably won't find it. The floating mount will keep your camera floating in the water and make it easy to find. It also is a lot easier to hold and aim with this grip rather than holding the case.
Last updated on November 11, 2020 6:02 pm
TEKCAM Head Strap Mount, Chest Belt Strap Harness Mount, and J Hook Clip
This kit is perfect if you just need the harnesses for attaching an action camera to your body. Getting this allows you to capture videos while keeping your hands free. It comes with a head mount harness, chest harness, and J Hook clip for attaching to helmets. Another great value at $13.
$12.99
1 new from $12.99
1 used from $9.27
Last updated on November 11, 2020 6:02 pm
Black Pro Basic Common Outdoor Sports Kit
For $20 you can get almost all of these accessories in one order. The comes with the chest harness, head harness, suction mounts, selfie sticks, swivel mount, wrist mounts, and helmet mounts. This is a pretty good value if you want all these pieces.
$21.99
3 new from $21.99
7 used from $15.80
Last updated on November 11, 2020 6:02 pm