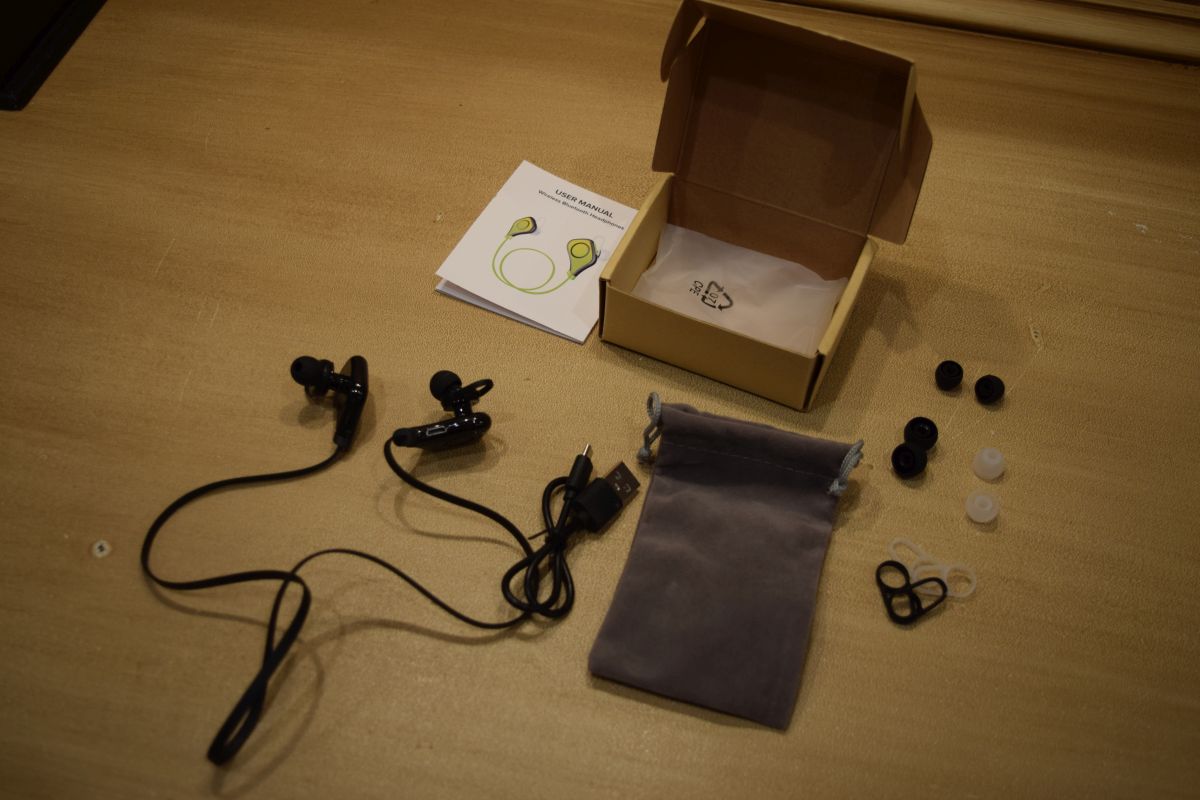 Recently I reviewed the Aidbucks Bluetooth Earbuds. I really liked that pair, but then I found the Barsone Bluetooth earbuds for half the price. I decided to order this pair and see how they compared at half the price.
Barsone Bluetooth 4.0 Wireless Sport Headphones
The second pair of Bluetooth headphones I order was the Barsone Bluetooth 4.0 Wireless Sport Headphones. The are currently $7.99 with free shipping on Amazon. They have 3.6 stars out of 182 reviews, so these seemed like they might be a decent value. Just like the Aidbucks, fulfillment is handled by Amazon and I received them in 2 days.
What's Included
The Barsone earbuds come in a basic small brown box, without much excess packaging. Open the box and inside are the earbuds, 3 different pairs of covers that are different sizes, a USB charging cable, a small storage pouch, and a manual. Also like the Aidbucks, the headphones were partially charged when I got them. I will say the packaging is not great, so if you were planning to give this as a gift, keep this in mind.
Sound Quality
The sound quality on the Barsone earbuds seemed to be just a tad lower. I felt like could notice a hiss when the sound level was low. It wasn't really noticeable when working out with the music playing, when when I was pairing I could hear it. Ultimately, it didn't bother me, but if sound quality is really important to you this could be an issue.
Fit and Feel
At first I felt these were not as snuggly fitting as the Aidbucks, but I never really had an issue with them coming loose during my workout. They're very lightweight and didn't seem to move around too much.
Product Quality
In general the Barsone headset does feel a little cheaper than the Aidbucks. Pairing them to my phone was no problem. On problem I did have was changing the earbud covers. Putting the rubber tips on is very difficult. I even gave up on the white set that's included, because I could not get it to slide into place.
Overall
The Barsone bluetooth earbuds are certainly functional and you can't beat the price. Having tried the Barsone and the Aidbucks I would be willing to pay the extra $9 for the Aidbucks. But the Barsone offer a great product for under $10. They certainly make a good backup, or something to carry in your travel bag.
Last updated on September 28, 2020 11:15 am
OK Earbuds for Cheap
While not the best headphones you will find, they are the lowest priced headphones. So there's some corner cutting in this product it still gets the job done.
PROS
Lowest Priced Bluetooth Earbuds
Good Battery Life
Easy Setup
CONS
Cheap Packaging
Tips are hard to change
Quality is just ok