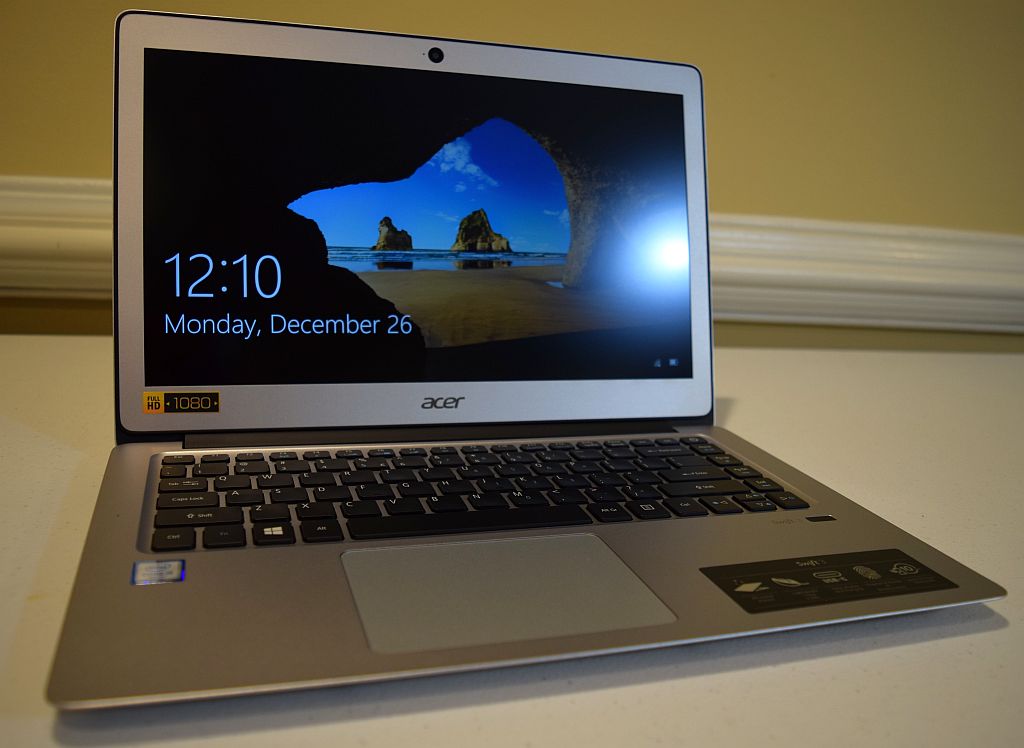 Acer decided to create an ultra stylish, ultra portable notebook with the Acer Swift 3. The Swift 3 is an all aluminum bodied ultrabook, that's very easy to carry, but still has plenty of power to be productive. It's only 0.7 inches and 3.3 pounds, so it's very easy to carry around and feels very comfortable in your hands. Acer clearly set out to build a very high end looking laptop, that had some pretty decent specs. It looks sharp and really catches the eyes, when you put your hands on it, it just feels good. Acer designed this laptop for productivity on the go, its thin and light, but has enough CPU and Memory to get work done. The 4 cell battery, keeps you working for a full day without needing to plug in.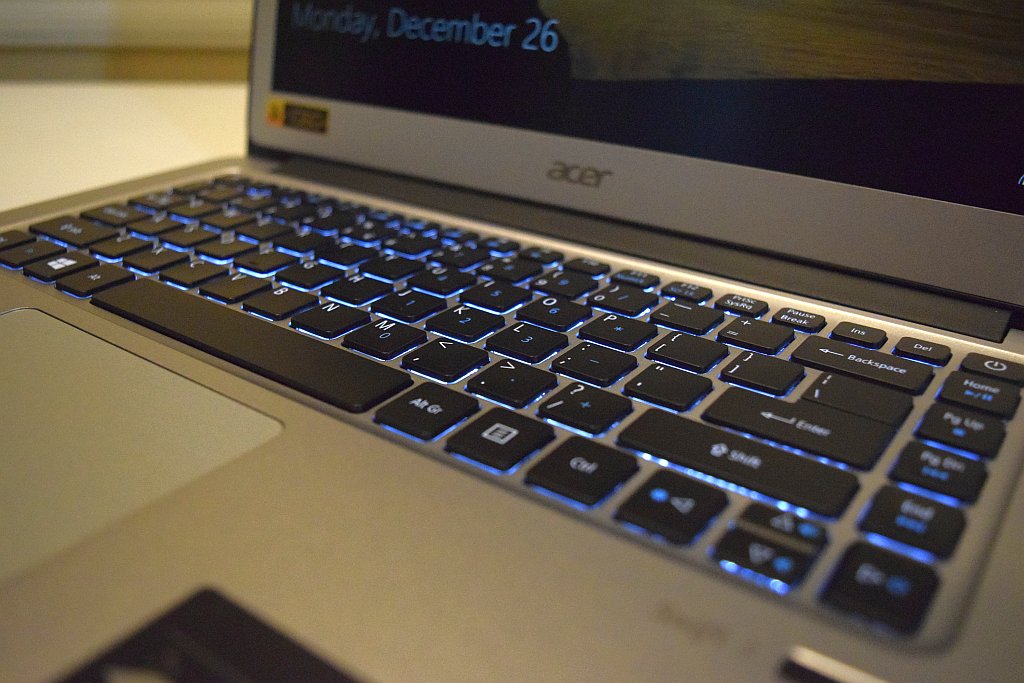 However having that thin and light design does mean some things have to be sacrificed. The Acer Swift 3 doesn't come with a CD/DVD drive or an Ethernet jack. But the Swift 3 is designed to be a mobile device, and CDs and ethernet cables don't fit into that world. Also keep in mind this isn't a gaming laptop, or a laptop that you will easily do video processing or other CPU intensive work.
Acer Swift 3 Components
CPU: The Acer Swift 3 comes with the 6th Generation Intel Core i5-6200U processor Dual-core 2.30 GHz. There is a version of the Swift 3 that comes with a Core i3 CPU, but for about $200 more I would opt for the more powerful i5 processor. There's also a Swift 7 model that comes with the i7 processor. I think the i5 is a good middle ground for most users.
Memory: Loaded with 8GB of DDR4 memory, it is more than capable of handling most work loads.
Storage: The Swift 3 has a 256GB SSD, more than enough space for most users, and I would not consider buying a notebook today without SSD storage.
Graphics Card: Embedded Intel HD Graphics 520 with Shared Memory, this doesn't pack a graphics punch like the Acer Aspire E 15, but it still handles movies and any casual gaming with no problems.
Screen: Sporting a 14″ Full HD (1920 x 1080) 16:9 IPS LED back-lit display, the screen good enough and has a nice matte, anti-glare look. While the screen has no major flaws, its not top of the line. If Acer cut costs it had to be here.
Battery: The Swift 3 ships with a 4-cell Li-Ion Battery (3220 mAh), Up to 10-hours Battery Life.
Webcam: The built-in HD Webcam (1280 x 720) supports High Dynamic Range (HDR).
Operating System: Windows 10 Home Edition 64-bit.
Connectivity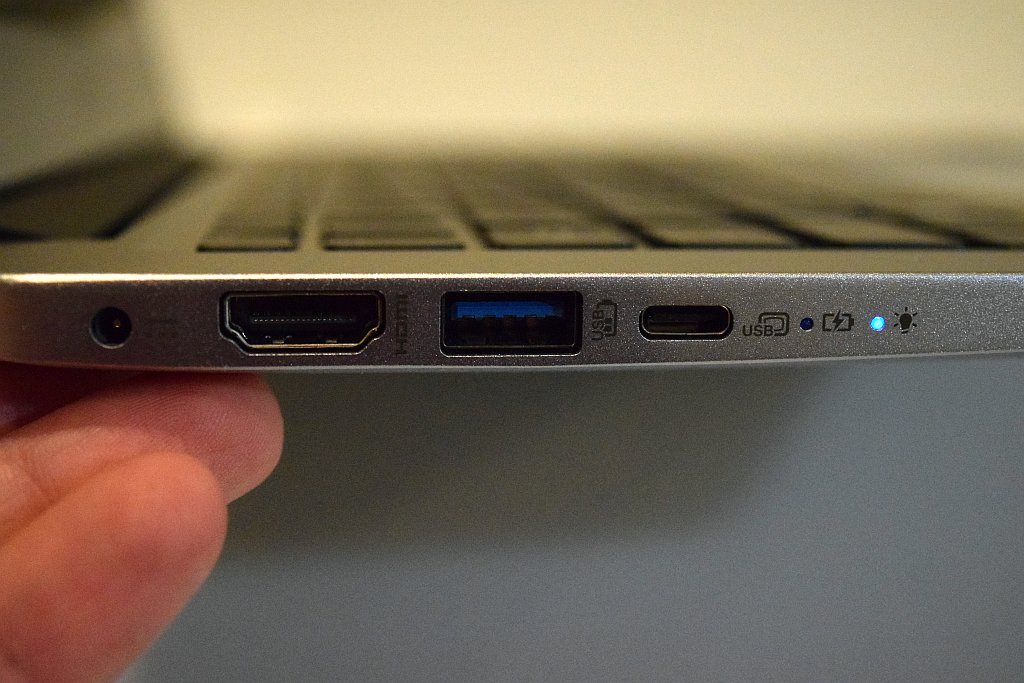 The Acer Swift 3 is stocked with the latest in connectivity:
2 x USB 3.0
1 x USB 3.1 Type-C connector
HDMI video out
4-in-1 Card Reader (MultiMediaCard, SD Memory Card, SDHC Memory Card, SDXC Memory Card)
Headphone/microphone combo jack
Bluetooth 4.0
2×2 802.11ac MU-MIMO wifi
Fingerprint Reader
Performance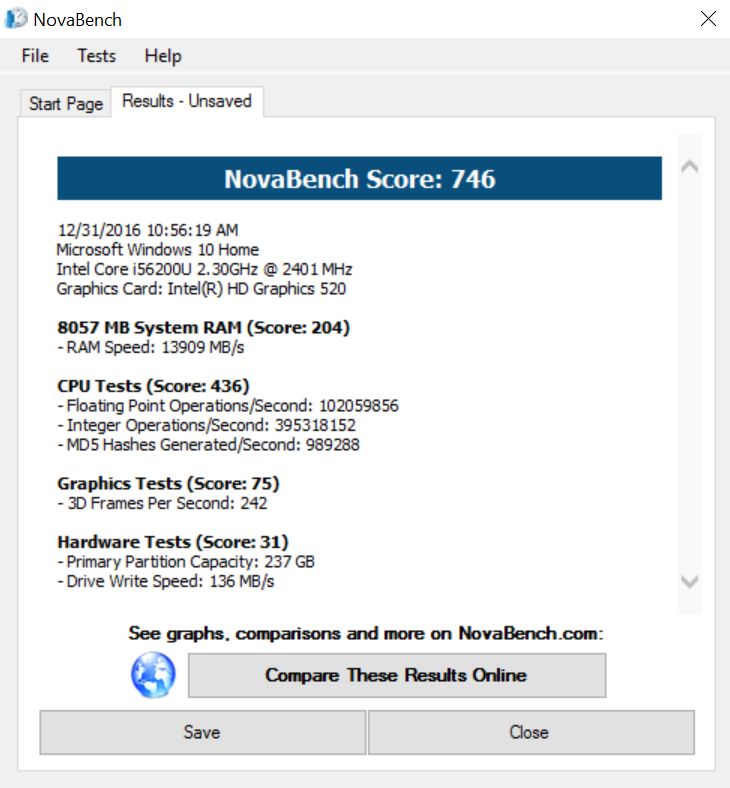 For a laptop that costs less than $700 the Swift 3 has very good performance. I used Novabench to benchmark desktop performance, and the overall score was 746.
RAM Speed was an impressive 13,909 MB/s, which is notably faster than the Acer Aspire which tested at 7,110 MB/s.
CPU Floating Point Operations/Second was 102,059,856
On the Graphics Test, the Swift 3 was able to generate 242 3D Frames per second.
The SSD Write Speed was 136 MB/s, which again was faster than the Acer Aspire's 101 MB/s.
Clearly, Acer put some higher end components into the Swift 3 model versus the Aspire models. That shouldn't be overly surprising since the Swift 3 is roughly $200 more expensive.
Overall this notebook is very snappy and fast, you'll have a hard time observing any lag doing most tasks in Windows. Boot time is very fast thanks to the SSD storage. I've timed the Windows boot to be about 20 seconds. But for the price tag this laptop really delivers a lot.
Build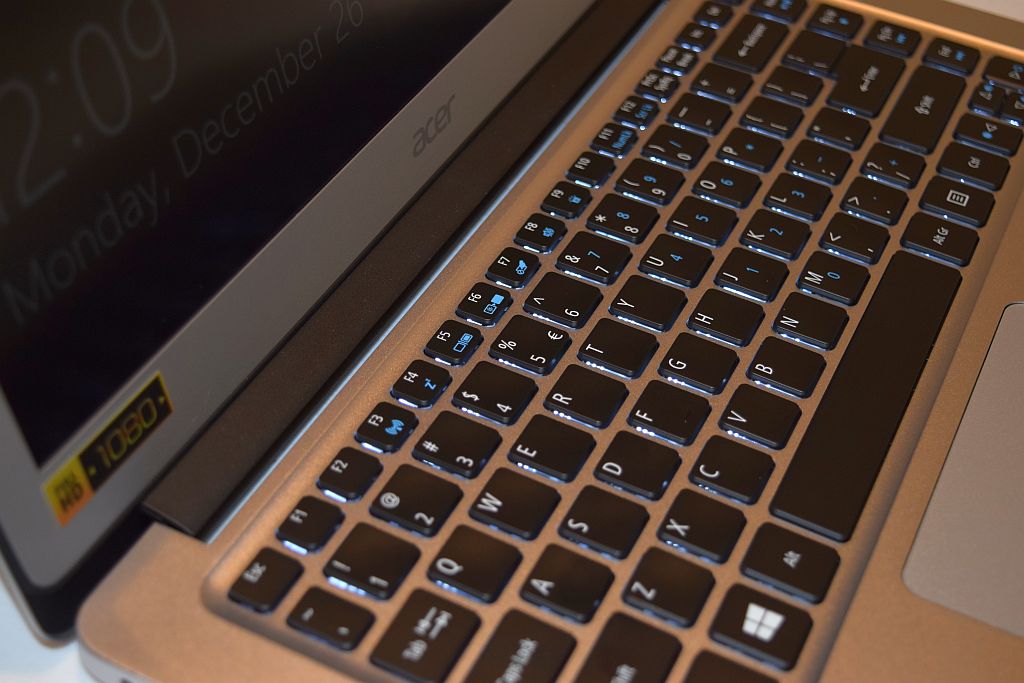 The Acer Swift 3 is a really nice looking laptop. It has an all aluminum body which not only looks good, but has a nice feel. If you are looking for a Windows 10 MacBook, this is the notebook for you. The aluminum chassis keeps the laptop cool to the touch, and I've also noticed very little fan noise. This is nice compared to older laptops that constantly overhead and usually have loud fans as a result.
The battery is also a stand out, the Lithium Ion 4-cell performs very well. It keeps you working for 10 hours without having to plug in. The charger itself is also pretty small and light weight, which is nice when you're on the good. Another strong feature of the Swift 3 is its keyboard. The keyboard is backlit, so it's very easy to use in low light areas. They keyboard feels very solid and is responsive. There's almost no flex to the keyboard. The fingerprint scanner is a nice option to have included and works nicely with Windows 10.
As of November 2016, Acer is shipping the Swift 3 with the Windows 10 Anniversary update. This adds some newer features, but the nicest thing is that you don't have to install the update yourself. Its about 1GB so it's a time-consuming update that you don't have to make.
Overall, the Swift 3 feels very solid and well built. Acer did a very nice job with the build of this laptop especially for the price point. It looks good and feels nice to carry around.
Acer Swift 3, 14" Full HD, Intel Core i5-6200U, 8GB DDR4, 256GB SSD, Windows 10, SF314-51-52W2
4 new from $668.00

Last update was in: December 15, 2017 1:04 am
6th Generation Intel Core i5-6200U Processor (Up to 2.8GHz)
14" Full HD (1920 x 1080) Widescreen IPS ComfyView LED-backlit Display
8GB DDR4 Onboard Memory, 256GB SSD
Windows 10 Home
Up to 10-hours Battery Life
Acer Swift 3 Ultrabook Ultra Deal
The Acer Swift 3 is a stylish workhorse. It looks good, with an all aluminum body, but also performs well thanks to a Core i5 CPU, 8GB of DDR4 memory, and a 256GB SSD. The Swift 3 is equally at home working in an airport or sitting on your couch. All the latest connectivity options are available including USB Type-C, HDMI, Fingerprint reader, and Bluetooth 4.0. Priced around $650, this ultrabook is a great deal.
PROS
Stylish all aluminum body
Very thin and light
8GB DDR4 Memory
256GB SSD Storage
10 Hour Runtime
CONS
Underwhelming Display
No dedicated video card
No ethernet connection
No CD/DVD